Auctioneer Auction Software – designed for Auctioneers
We provide auctioneers with state-of-the-art feature-rich online auctioneer auction software.
The Webtron online auctioneer software solution is built and designed for auctioneers to drive sales and revenues online. Put your brand at the forefront of online auctions in your market with Webtron Auction Software Platform.
Online auctions are a fantastic way to sell assets to online bidders anywhere.
The white-label auction solution will let you run auctions from your own website. The cloud-based software highly effective at promoting your business, unlike third-party group sites. Your bidders will never leave your website.
We give you an auctioneer software package with everything you need
🎥 Live Webcast Auctions
⏳ Timed Online Auctions
📈 Marketplace
👩‍💻 Remote Clerking option
👨🏽‍💻 Sleek & modern designed bidder interface
🙋🏻‍♂️ Dedicated Auctioneer Screen that works on laptop or tablet
🔐 Secure & Trusted Auction Software Solution
✅ Everything you need & will run from your own website
🏷 White Label Auction Software – 'value protect your bidders & IP' ( Not a group site
)
☁️ Cloud based
So modern works on all devices without frustrating bidders to download apps
🧑‍💻 Includes Setup, Training & Ongoing Support
🧾 Auction invoicing & reporting
🖥 Websites & marketing
😊 Simple for bidders and powerful for auctioneers
Software that staff and bidders rave about.
There's nothing worse than using an online system that your employees and bidders hate using.
We have everything you need. Our software comes with inbuilt invoicing, sales management, bidder management to simplify the administrative aspects of running an online sale.
Our import tools use drag and drop functionality and in-system import options as well as simple to fill out CSV spreadsheets and fast bulk picture imports make setting up entire sales a breeze.
What's more, our platform is easy to set up and is cloud-based, and requires no software installations. Everything is simply managed online with a private login.
If you pair with us, you get an online auction platform that's built to grow with you and your business. You could be up and running with your first sale in no time at all.
We are continuously investing in ongoing development. And with 15 years of experience helping auctioneers worldwide, you know you will be in safe hands.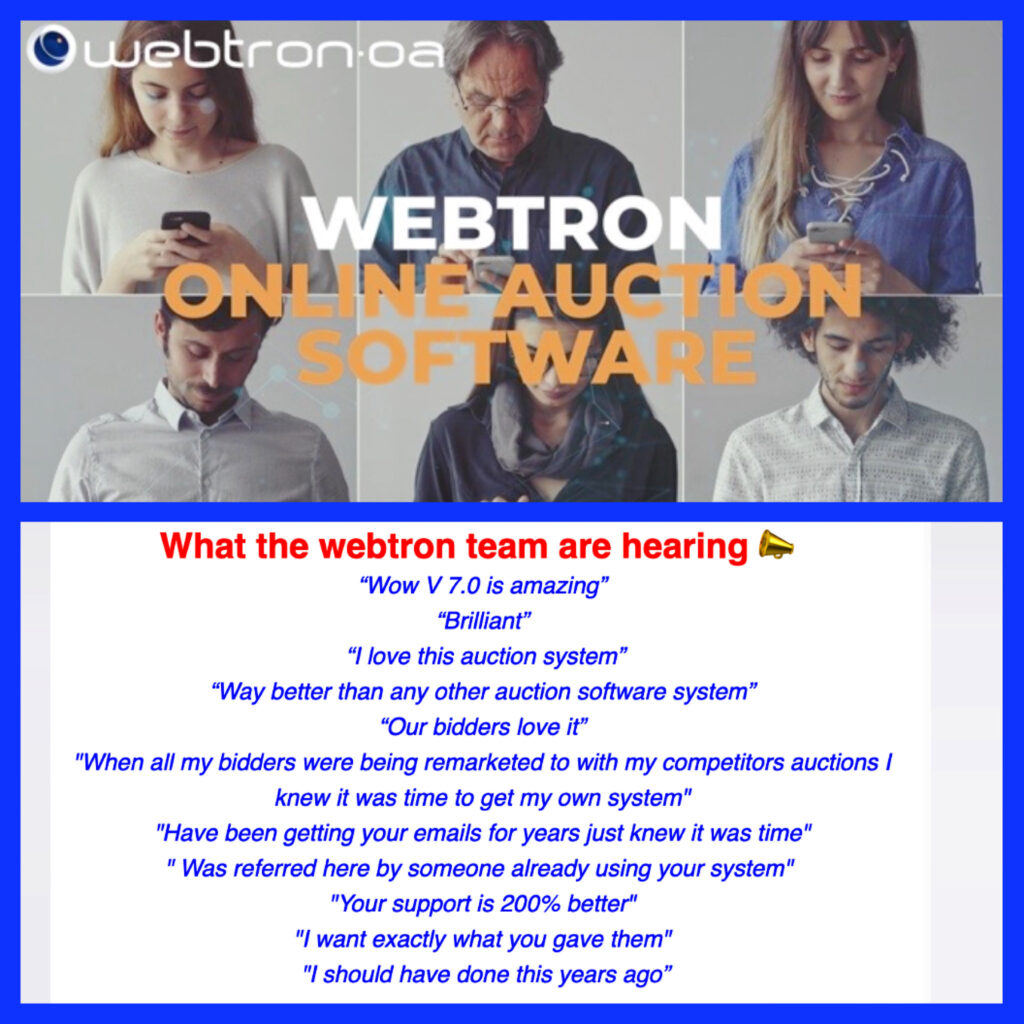 New Webtron 7.0 Auctioneer Auction Software is here!
There has never been a better time to upgrade your online auction software to Webtron's 7.0 newest auction software release.
Take advantage of a white label auction solution that runs from your own website. It has been designed for auctioneers like you to take your online auction business to another level.
It's 'Simple for bidders and powerful for auctioneers'.
Please get in touch and arrange a demo for your business.
Auctioneers we are here help. Get in touch below.